Generator Safety Tips You Need to Know
March 9, 2018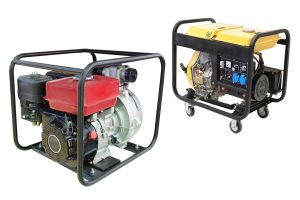 When bad weather hits and large power outages occur, it is extremely important to have a generator! They keep your lights on and your family warm while crews work hard to get power restored. But because generators are not often needed, safety tips are often unknown or overlooked. Luckily, we at Woolley Home Solutions are here to provide you with the generator safety tips that you need to know!
Safety Checklist for Your Backup Generator
While generators are oftentimes lifesaving, misuse can lead to injuries to you or your loved ones. That is why we have compiled a safety checklist for your backup generator.
Familiarize yourself with your generator. Thoroughly read through and follow the manufacturers guidelines prior to using your backup generator for the first time.
Do not operate your generator within a closed space. This includes inside your home, basement, garage, shed, etc.
Keep your generator in a dry, well-ventilated space. This can be difficult during inclimate weather but do your best to minimize exposure to rain and snow.
Plug appliances directly into your generator. Or use an outdoor, heavy-duty extension cord to plug into the generator.
Monitor carbon monoxide fumes with a battery-powered carbon monoxide detector in your home. It can enter through doors, cracks in your windows, and attic vents so you'll need to be alerted if fume levels are high in your home.
Do NOT operate your generator near combustible materials. This is necessary to prevent any fires or health risks to you and your family members.
Never "backfeed" by trying to power the house wiring by plugging the generator into a wall outlet. This puts you, your neighbors, and utility crews at risk of electrocution.
Keep stored fuel away from the generator. This will help prevent any accidental fires to your home.
Be sure that your generator is off and cooled prior to refueling. Gasoline spilling on hot engine parts can cause fires and you could potentially burn yourself.
Operating your generator in a safe manner will help to keep you and your family safe during unfortunate power outages.
Propane Refilling Station in New Jersey
If you are operating a propane generator and need to refill your tank, stop by the Woolley Home Solutions propane refilling station in New Jersey. We know that when big storms hit, homeowners are not always prepared with all of the necessities and that is why you can always count on Woolley to be there when you need us most. Contact us online or call us at 973-762-7400 for more information.
---