Propane Refill Station in New Jersey
Propane Refills Monday-Friday 8:00 a.m.-3:30 p.m. in Maplewood, NJ
Procedure
Please remove tank from your car & use the bell at pump or call 973-762-7400.
Someone will come down to fill your tank once you are back in your vehicle.
We will leave your tank by your vehicle.
CLICK HERE for GOOGLE MAPS
Payment
We can take all payments by phone. We will need your address and email. Just call 973-762-7400.
If you have already paid in advance you're all set to leave.
If you haven't paid please call 973-762-7400. We will need your address and email.
If you need to purchase or refill a propane tank to keep your patio heaters, outdoor grills, and or fireplace fully fueled, contact us or stop into our Maplewood, NJ location! We are northern New Jersey's propane filling specialists.
Stop by our propane refill station at 12 Burnett Ave. in Maplewood, NJ, or contact us today to learn more about our propane services for residents in Maplewood and the surrounding areas!
---
Save on Propane Fill-Ups in Maplewood, NJ
286 Free Fill-Ups So Far!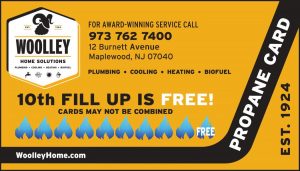 When you stop in at our Maplewood propane filling station today to refill your propane tank for your gas grill, don't forget to ask for the Frequent Buyer's card. Fill up nine times and your 10th fill-up is on us!
20 LB Propane Tank Refill & Replacement in Maplewood, NJ
When barbecue season starts and you're ready to fire up the grill, come to us first! For 20-pound propane tank refills stop by our propane tank refilling station in Maplewood, NJ today to ensure you never run out of fuel mid-barbecue!
Plus, refilling your BBQ propane tank is often a much better value than an exchange.
If you have a specialty tank that is under 20 lbs please call ahead to make sure the personnel is available to fill your tank.
Propane Tank Safety for New Jersey Residents
When planning a backyard barbecue, you're generally thinking about the food and drinks you need, not about whether or not your propane tank is safe and up to code. Unless you know a lot about your propane tanks, you may not know how full your tank is, and whether or not it will last until your next cookout.
Safety Tips
If you smell gas:
Immediately put out all smoking materials and other open flames. 
CLOSE 
If you are able to, safely turn off the cylinder valve. To close the valve, turn it to the right (clockwise).
Immediately leave the area and call 911 or your local fire department. 
Before you restart the appliance, have a qualified service technician inspect your cylinder and appliance.
Transporting Small Cylinders
ALWAYS transport and store a cylinder in a secure and upright position so it will not fall, shift, or roll.
ALWAYS close the cylinder valve and, if required, seal with a plug, even if the cylinder is empty. Ask your propane retailer if a plug is required.
NEVER keep a filled cylinder inside a hot vehicle.
ALWAYS place the cylinder in a well ventilated area of the vehicle.
ALWAYS proceed directly to your destination and immediately remove the cylinder from your vehicle.
The law places limits on the number of cylinders and the amount of propane that can be transported in closed-bodied vehicles such as passenger cars and vans. Ask your propane retailer for more information on state and local codes that apply to you.
What does propane smell like? Propane smells like rotten eggs, a skunk's spray, or a dead animal. Propane manufacturers add this smell to help alert customers to propane leaks.
Storing Small Cylinders
NEVER store or place a propane cylinder indoors or in an enclosed area such as a basement, garage, shed, or tent.
NEVER store or place a propane cylinder in an area of excessive heat (120 degrees or higher) or near a stove, fireplace, or other heat source. The heat builds up pressure inside the cylinder, which may cause the pressure relief valve to release propane. Flash fires or explosions can result from exposing cylinders to heat.
NEVER store or place a spare cylinder under or near a barbecue grill.
DO NOT smoke or have any ignition sources such as flames or spark-producing electrical tools in the area while handling or transporting cylinders.
Safe Propane Fill-Ups in New Jersey
At Woolley Home Solutions, our propane technicians are up to date on all the codes and safety standards to make sure that your propane tank is safe, filled, and ready for your grill or outdoor heater. You know you'll be safe and secure when you trust Woolley Home Solutions with your propane tank refilling needs in northeastern New Jersey.
For more grilling tips to stay safe this summer, click here.
Can My Propane Tank Be Refilled?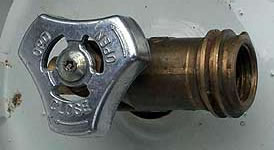 The National Fire Protection Association safety code for propane tanks (NFPA 58) required tanks with a capacity of 4 to 40 pounds that were manufactured after September 30, 1998, to have an Overfilling Protection Device OPD valve.
This includes the 20-pound propane tank used in full-size barbecue grills. A tank without an OPD valve cannot be refilled.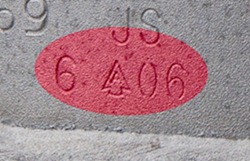 And remember, if your tank is stamped with the year 2000 or earlier, it can't be filled. Propane tanks can only be used for 12 years and need to be recertified or replaced.
Make sure to check your tank for a date stamp before attempting a refill!
Woolley Home Solutions: Your Propane Tank Experts
Serving the Maplewood, NJ area for over 95 years, you can trust the experts at Woolley Home Solutions for safe propane tank refills for your grill and outdoor patio in New Jersey.
If you need your propane tank refilled or need to buy a new one, contact us today or stop into our Maplewood, NJ location. We are conveniently located on 12 Burnett Ave, Maplewood, NJ.
Don't forget to ask about our loyalty card. Your 10th fill-up is free!
CONTACT US
REQUEST SERVICE OR FUEL DELIVERY
To request service or fuel delivery, log into your Woolley Home Solutions account! If you aren't yet a customer, become a customer, or request service below.
CUSTOMER LOGIN
REQUEST SERVICE
BECOME A CUSTOMER